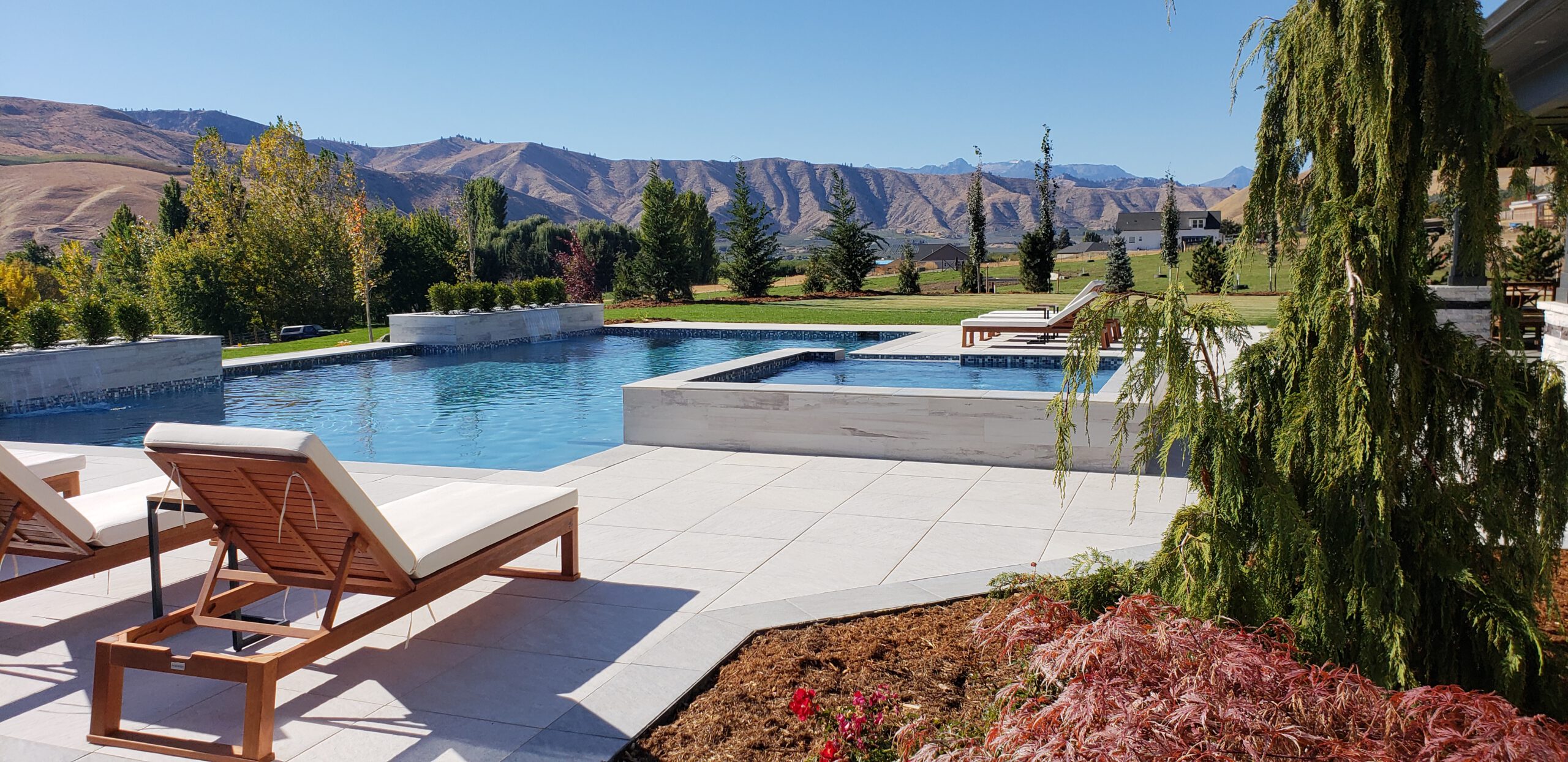 A Study in Bespoke Pool Elegance and Outdoor Living
Introduction:
Nestled just to the North of Wenatchee, Sunnyslope Serenity offers a sublime example of how a well-conceived pool and spa retreat can elevate the very essence of one's lifestyle. This bespoke outdoor haven showcases an expert blend of high-quality materials and architectural foresight, making it a perfect case study for anyone contemplating their own luxury outdoor project.
---
An Elevated Spa Experience:
The elevated spa, adorned with a captivating waterfall feature, doesn't merely serve as a place for relaxation; it becomes a focal point that imbues the space with a sense of flow and harmony. This cascading element naturally integrates with the pool, setting a tranquil scene that captures the imagination.
---
Where Nature and Leisure Meet:
Thoughtfully designed sun ledges and raised planters not only provide an area to unwind but also introduce elements of natural beauty into the space. By melding these two facets, the design transcends mere function and becomes a harmonious setting where man-made elegance coexists with natural splendor.
---
The Luxury of a Swim-Up Bar:
The swim-up bar introduces a resort-like quality, presenting an opportunity for poolside refreshments without the need to leave the water. It's this sort of amenity that turns a simple swim into an event, offering the epitome of indulgence for discerning tastes.
---
Ideal Depth for Recreation:
The pool's depth of 4 feet 6 inches creates an ideal setting for water sports such as volleyball and basketball. This adds a dynamic layer to the pool's functionality, ensuring that it can accommodate both leisurely relaxation and active play.
---
The Perfect Finish:
Sophistication extends into every corner of this project, from the porcelain accents employed in the coping, planters, and spa exterior to the custom tile waterline. Coupled with industry-leading Pentair mechanics, the space is as reliable as it is aesthetically pleasing.
---
Conclusion:
Designed by Rick Newton, a luminary with a keen eye for detail, Sunnyslope Serenity provides a touchpoint for what can be achieved when luxury and leisure are thoughtfully merged. This Wenatchee project doesn't just satisfy the desire for upscale features—it serves as a comprehensive vision for what an elevated outdoor living experience can truly be.
---
As you ponder the possibilities for your own oasis, may the Sunnyslope Serenity project serve as inspiration for the limitless potential that resides in the thoughtful blending of beauty and function.